sunscreens
La Roche Posay ANTHELIOS SHAKA Non-Perfumed Fluid SPF50+
This sunscreen is my HG. It's really light and easy to apply, has a PPD of 46 (!!), uses fantastic filters, sinks in quickly and isn't drying. It's also WATERPROOF. I wear it daily especially if I'll be walking around outside at all. I absolutely adore this sunscreen! I buy it from eBay (to get the European formulated one w the newer filters) from the seller healthy_center.
CANMAKE Mermaid Skin Gel UV (SPF50+ PA++++)
This sunscreen is a DREAM (better than any sunscreen has a right to be. It's like a gel moisturizer that just disappears into your skin. It's a joy to apply. It's not drying, it's not greasy, it's absolutely perfect) BUT it's not sebum, water or sweat resistant, so I only use this on days when I'm staying home not doing much.
Biore Sarasara UV Aqua Rich Watery Essence Sunscreen SPF50+ PA+++ 85g
I LOVED this sunscreen but after months of using it, it started to really dry out and irritate my skin! I think it's the high amount of alcohol in the reformulation. Had to discontinue :( Also it's not oil resistant so I won't repurchase.
ROHTO Skin Aqua Super Moisture Gel pump (SPF50+ PA++++)
A light, quickly absorbing sunscreen with all the UVB and UVA protection you could ever want. Two pumps are the full 1/4 teaspoon required for sun protection. Not quiiiite as nice as Can Make (leaves a greasier/shinier residue on me), but I love how huge the bottle is. Not oil resistant so I won't repurchase this one!
Kiss My Face SPF 30
For a Western sunscreen this is actually pretty great! I use this on days when I know I'll be sweating a bit (hiking, walking outdoors, etc.). It's much more waterproof than the Asian sunscreens I usually use. Cruelty-free and goes on smoothly - doesn't sting, and minimal white cast!


moisturizers and hydrating toners
HADALABO Gokujyun Hyaluronic Lotion Premium
The same as the Moist, but with 5 sizes of hyaluronic acid for deeper penetration. For me, this is enough on it's own, and it doesn't pill under sunscreen so I use it every morning. The "Moist" layers better so if you want a Tahani-style 12-step skincare routine I'd go w/ Moist, but for a one-stop shop this one is hard to beat. Don't layer this under tretinoin. It increases absorption which dramatically increases irritation!
HADALABO Gokujyun Hyaluronic Lotion Moist
I thought this was a joke when I first tried it. It looks watery and weak, not at all the thick, goopy business I'm used to with Western moisturizers. This is hands-down the most hydrating product I've tried. Splash your face with water and pat 3-5 drops into your skin, then repeat as needed.
Vanicream Lite
Gentle, effective, affordable, and the ONLY moisturizer I've found that doesn't contain the ingredients I'm allergic to!
Vanicream Gentle Hydrating Cleanser
This hydrating cleanser is less stripping than the Cerave foaming wash, but way more effective than the Cerave Hydrating cleansr. It's the perfect Goldilocks middle. My face feels clean but never stripped, tight or dry.
Stratia Liquid Gold
I had to discontinue this because I found out I'm allergic to the preservatives in it! Before that it was honestly the BEST moisturizer I'd ever used. Really fantastic. The fact that I loved it so much even though it always irritated my skin should tell you how great it is.
Hada Labo Skin Plumping Gel
This is the most heavy-duty, slightly occlusive moisturizing product I own. I slather on a bunch before I get on a plane, and if my face needs the extra moisture. But I probably won't buy it again, because I hate the packaging.
CeraVe Hydrating Face Wash
This is really really hydrating and gentle. So gentle in fact that my face never felt clean!
Way more details than you ever wanted
Sunscreen
Most folks know that dermatologists say the #1 thing you can do for anti-aging is wear sunscreen! Unfortunately most Western sunscreens available in the U.S. are extremely terrible. They're thick, greasy, difficult to spread, and can leave a major "white cast" to your face. What's more, the FDA has very loose requirements on reporting sunscreen effectiveness, and has been slow to approve new UV filters. Japanese and Korean sunscreens, however, are light-years beyond these pitiful FDA-approved options.
First, some quick info about the different kinds of damaging sun rays:
UVB (B is for BURNING): causes sunburns and skin cancer.
UVA (A is for AGING): causes wrinkles, tanning, hyperpigmentation, sun spots.
You need protection from both in order to have healthy skin! Remember that windows don't protect against all UV rays. Check out this amazing picture of a truck driver, and see if you can tell which side of his face was exposed to the sun through a window as he drove his truck for 28 years: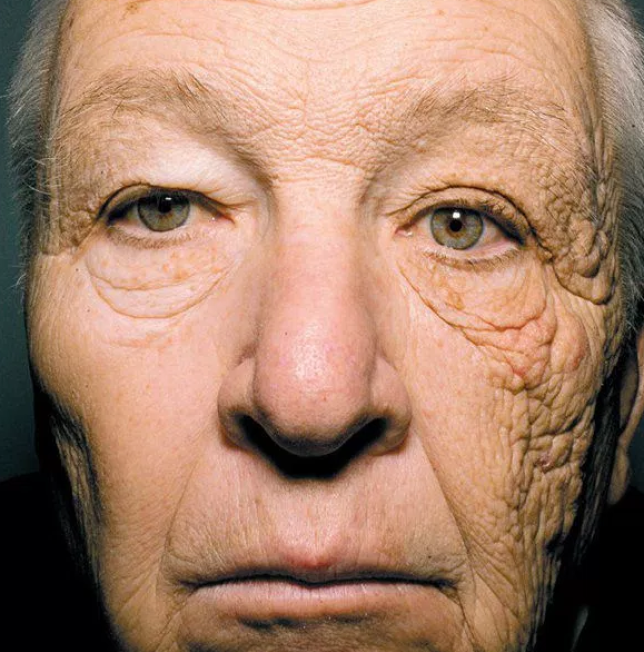 Image from the New England Journal of Medicine.
In the U.S., sunscreen manufacturers are required to report the SPF protection provided by their sunscreen. SPF stands for sun protection factor. It measures a sunscreen's amount of protection from UVB rays. But remember, you want both UVB and UVA protection. So how do you get UVA protection? That's where Asian photo protectors come in.
Asian researchers use a measure called "PPD" to measure UVA protection. PPD stands for persistent pigment darkening. It's tested by applying a product to human skin and measuring how long it takes for the skin to darken (i.e. tan) compared to bare skin. Let's say it takes 10 minutes for bare skin to start to tan. If a product was applied and it took 160 minutes (2 hours 40 minutes) instead for the skin to tan, then the product has a PPD of 16, because it took 16 times longer for skin to darken as it normally would have.
PA+ = PPD 2-4
PA++ = PPD 4-8
PA+++ = PPD 8 to 16
PA++++ = PPD 16 to 35
(Source)
Remember, UVA rays are the ones responsible for aging and UVB rays are the ones responsible for burning. In the U.S., sunscreens are only required to report whether they are "broad spectrum", not any PPD value. Unfortunately, even if a sunscreen claims "broad spectrum", you just don't know how much UVA protection it has. For example, many sunscreens use avobenzone for UVA protection, which degrades incredibly quickly in sunlight. Avobenzone loses 50% of it's UV protective property in less than an hour. Several hours later you are nearly completely vulnerable to UVA if your sunscreen doesn't contain other UVA filters or Avobenzone stabilizers, like Tinosorb and Octisalate.
Asian sunscreens have these improved filters and formulations. That means higher, more complete, and longer-lasting protection.
Not only do the sun filtering ingredients used in Asian sunscreens degrade less quickly than those in American suncreens, but they are far more cosmetically elegant. They sink in almost instantly, glide on smoothly, dry to a dewy or matte finish (as you prefer), AND the level of sun protection is significantly higher. All the sunscreens I recommend are minimum SPF 50 and PA++++.
Even if you've always hated sunscreen, please give Asian sunscreens a try! They are absolutely wonderful.
Notes
Another popular one is SkinAqua's Sarafit.
My Routine
I change this on a daily basis depending on how my skin feels. For example, if my skin stings at all while applying one of the Hada Labo hydrating toners I skip all actives for at least 8 hours.
AM
Splash face w/ cool water.
Moisturize/Hydrate
Treatment

Azelaic Acid 8% (from Garden of Wisdom) - A dime-sized squirt on top of my moisturizer. Research shows azelaic acid is as effective on top of moisturizer as underneath and this is less irritating for me.

Sunscreen:
PM
Cleanse
Actives (Currently on 0.1% microgel tretinoin after ~3 year of 0.04% microgel)

Monday night, tretinoin only: after face is completely dry (any water will cause massive flaking the next day) I apply a pea-size amount of Tret 0.1% micro gel. I don't do any moisturizer these nights.
Tuesday night, hydration and azelaic acid: Hada Labo Premium Lotion or Hada Labo Gokujyun Lotion Moist, one pump of Vanicream Lite, then one pump of Azelaic Acid 8% (from Garden of Wisdom). Then another pump of Vanicream Lite mixed with 3-4 drops of Jojoba Oil (from Garden of Wisdom). Really thin layer of Aquaphor on top as an occlusive.
Wednesday night, tretinoin.
Thursday night, hydration and azelaic acid
Friday night, tretinoin.
Saturday night, either hydration + azelaic acid or tretinoin depending on how dry it is and what acne I'm getting.
Sunday night, either hydration + azelaic acid or tretinoin.
Vitamin C
LAA is pH dependent. It can be combined with niacinamide but some prefer not to since it causes flushing, so best to wait 30 min in between using those two.
Most common actives require a 15-20 minute absorption/activation window in the right pH for that product, and in the event that you include multiple actives in a single routine, you'll want to follow an order of lowest pH to highest pH.
For people who use LAA-based Vitamin C serums (which are pH dependent), that will usally be Vitamin C » BHA » AHA.
Vit C needs to go on a 'bare' face.
You can wait 15-20 min after washing your face for your skin to naturally go back down to pH 4.2-5.6 on its own. (No need to wait to reset skin pH)
Vit C has a 15 min absorption time/effectiveness window.
Vit C can increase photoprotective skin behavior, but degrades in UV, so may be good to use at night! Ugh!
source. Even more info about Vitamin C
email